Best Camping Place in Kanatal
With years of experience, Camp Awara Kanatal is a well-known camping place in Kanatal. It's close to Rishikesh, Mussoorie, and Kanatal, and it's in Kanatal. Camp Awara Kanatal is located in Kanatal, Tehri Garhwal District, at a height of 7600 feet above sea level, between Mussoorie and Chamba highways. This provides a vast and lovely natural scenic view. It covers 1.25 hectares of land in a mountainous area. This creates a large camping area that can facilitate a large number of people. It is beautifully surrounded by huge mountain trees, providing an impressive view. It also provides a magnificent view of the river in the valley, the Bandarpoonch glaciers, and the Gangotri of the Great Himalayas.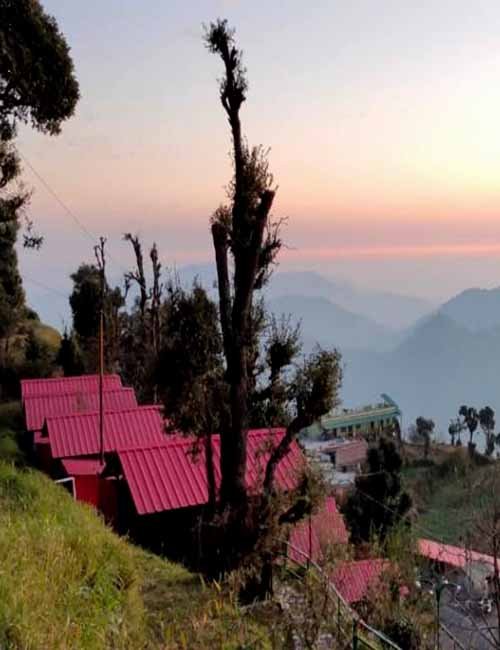 Camp Awara Kanatal Services
Well known for its food and services. The staff at Camp Awara Kanatal are always there for all your needs. We provide hygienic, beautifully maintained, spacious and comfortable tents for your perfect time. Safety is our priority hence we put safety first. With tightropes and safety helmets, We take care of your service and safety. We promise you a perfect time at Camp Awara Kanatal.
Most Affordable Resort in Kanatal
Camp Awara is well connected to local tourist attractions, giving it the most convenient location to visit and stay. Camp Awara is extremely affordable. We offer excellent service at an affordable price. Camp Awara is an affordable Dhanaulti hotel. 
Best Place to Visit in Kanatal
Camp Awara Kanatal is located at a great spot which is located near many tourist spots. Neighboring spots like Kempty fall, Mussoorie Lake, Malsi Deer Park, Nag Devta Temple, Cloud End, Tehri Dam, Surkanda Devi Temple & Kaudia provide great tourism to people.
Activities at Camp Awara Kanatal
We are best known for our camping activities and adventurous activities. Burma Bridge, Flying Fox, Commando Crawl, Suspension bridge, Valley crossing, Bamboo bridge, etc. are some adventurous activities performed at Camp Awara Kanatal.